As you know I'm passionate about the health of my patients. And nothing affects health more than a person's mouth. When people take good care of their mouth by brushing and flossing daily, they greatly minimize their health risks.
Bad Oral Health Creates a Downward Spiral
But, when people don't take proper care of their mouth often times they wind-up losing teeth. And when that happens, it's really easy for their health to go into an uncontrolled downward spiral. By missing teeth people stop eating the nutritious foods they need, their jawbones dissolve, and they stop interacting with friends and family. Leaving them malnourished and alone.
The only way to reverse this situation is to get these people a new set of teeth.
So, if you're missing several teeth or have many that are badly decayed, and you ask me about using All-on-4, I'll have one response: I'm all in.
All on 4 Become Your New Teeth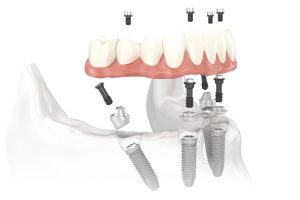 All-on-4 refers to "all" teeth being supported "on four" dental implants made of super-strong titanium that are inserted into your jaw. As the bone grows around them, they become part of the jaw, and they keep the jawbone strong. In addition, because the teeth are artificial, this entire system will last beyond the lifetime of most patients.
But, here's the main benefit: These — like all teeth with implants — look, feel, and function like your natural teeth.
This means that you'll be able to do everything you couldn't do before: Eat the things you want, speak easier and smile and laugh all you want as you visit with friends and family.
It's Worth the Time
Even though getting a dental implant is a common procedure, it's still oral surgery and requires plenty of recovery time. Once the dentist has placed the titanium post in your jawbone, it will take about 3 to 6 months for the jawbone to completely heal.  Fortunately, with just local anesthesia, patients feel very little, if any, pain. After the procedure only the occasional Tylenol or Motrin will be needed.
So, if you're missing any teeth, visit me ASAP to learn more information about All-on-4. Not only will it improve your health, but it will change your life for the better in a number of ways. Also, it can save your life by stopping – and even reversing – that downward spiral that I mentioned earlier.
I can't think of any better reason to be all-in on All-on-4.
-Dr. Taj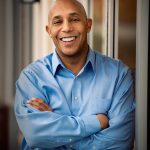 Dr. Taj Haynes received his Doctorate of Dental Medicine from the University of Pennsylvania School of Dental Medicine. He strives to transform the dental visit experience by providing a welcoming environment, friendly staff and quality dentistry at each of Modern Family Dental Care's offices. Dr. Haynes' professional training paired with his passion for helping others enables him to deliver the best health and dental care services in the Charlotte area

Concord Location
Concord Mills
8455 Pit Stop Ct. NW, Suite 140
Concord, NC 28027
(704) 979-3436
Monday: 9:00am – 3:00pm
Tuesday: 7:00am – 4:00pm
Wednesday: 7:00am – 4:00pm
Thursday: 7:00am – 4:00pm
Friday: 9:00am – 3:00pm





Charlotte – Davis Lake:
Shoppes at Davis Lake
8505 Davis Lake Pkwy, Suite AB-3
Charlotte, NC 28269
(980) 498-1037
Monday: 7:00am – 4:00pm
Tuesday: 7:00am – 4:00pm
Wednesday: 7:00am – 4:00pm
Thursday: 7:00am – 4:00pm
Friday: Coming Soon



Charlotte – Northlake:
8150 Mt. Holly – Huntersville Rd, Suite A
Charlotte, NC 28216
(704) 817-9547
Monday: 8:00am-5:00pm
Tuesday: 10:00am – 5:00pm
Wednesday: 8:00am – 5:00pm
Thursday: 8:00am – 5:00pm
Friday: Coming Soon