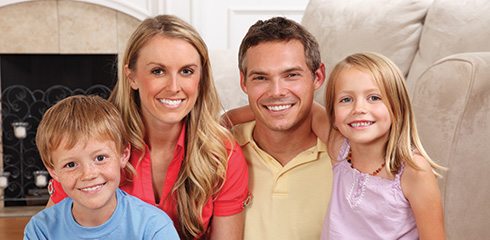 We want to help remove financial barriers so you and your family can get the dental treatment you need. Many patients have some type of dental insurance, and we are able and pleased to assist you in maximizing your benefits. We believe that our very insurance-friendly office is one of the things that sets us apart from the rest! We also understand that not all of our dental families have dental insurance, and we want you to rest assured that we have payment options to meet most patient's needs. All three of our Northlake, Davis Lake and Concord, NC dental offices offer discounts for full paying patients at the time of treatment, up to 96 months financing, and deposit payment plans.
DENTAL INSURANCE
At your first visit to Modern Family Dental Care, we will ask for current dental insurance information. We may ask you to confirm this information at subsequent visits so we can remain up-to-date and fully informed to serve you. We accept most dental insurance plans and are in-network with the major insurance plans. We do not accept DSOs or Medicaid. Insured patients will receive cost estimates broken down by insured and uninsured costs.
For patients covered by dental insurance, we will accept assignment of benefits. This means that you sign the portion of your insurance that "assigns" payment to our office. Most dental insurance typically covers 50-70% of dental care. Please note that estimates are based on information provided by your insurance and not a guarantee of payment. Only after a claim is submitted and reviewed by your insurance company can final payment be determined. As a courtesy, we file claim forms electronically, provide postage for special claims, and track claims for you.
WELLNESS SAVINGS PLAN
We strive to make our dental care more affordable with our dental discount plan. Patients without dental insurance in Charlotte and Concord can enroll in the Wellness Savings Plan and save 20% off the average dental treatment fees compared to other dentist offices in Concord and Charlotte.
The Wellness Savings Plan Covers:
– Two routine dental and gum exams
– Two routine teeth cleanings
– Two fluoride treatments
– Two emergency exams
– Yearly x-rays
– Yearly oral cancer screenings
– 20% off most other dental services
This plan is an annual membership available for both individuals and families. Membership is $249 annually for an individual or $149 for each additional family member (parents and children under 18). The Wellness Savings Plan pays for itself with just one oral health maintenance exam, teeth cleaning for a healthy mouth and one white filling. All of our dental offices in Concord and the Charlotte metro areas accept this Wellness Savings Plan. You can speak with one of our front office team members at any of our three locations and we will be happy to enroll you in the Wellness Savings Plan.
Download the Wellness Savings Plan Brochure.
DENTAL PAYMENT PLANS & FINANCING IN CHARLOTTE AND CONCORD
At Modern Family Dental Care, we accept cash, checks, debit, and all major credit cards. We also offer the following dental payment options to meet your needs because we understand that monthly payments can help you fit dental care into your budget.
With our Financial Agreements, you can finance 100% of your dental treatment with no hidden fees. Our Financial Arrangements allow for flexible payments so you can find an option that works well for you and your family!
Your Charlotte and Concord dentists offer discounts if you pay in full at the time of treatment. Up to 96 months financing and deposit payment plans are also available. We strive to provide dental payment plans, dental financing, and special offers so we can offer the most value from any dentist in Charlotte and Concord, NC. Contact us today to find out which payment option works best for you.


Care Credit
To support your evolving needs, we are introducing a new integrated online solution. You can learn about CareCredit, apply directly for the CareCredit credit card and pay your invoices online, all-in-one place. It's as simple as clicking the link below!